Educational tourism is gaining its popularity in recent years. The notion of educational tourism has made changes to the notion of tourism. That is to say, while the aim of tourism is travel, the aim of educational purpose is to absorb new knowledge and directly immerse in several new things.
The question is what educational tourism is all about. With educational tourism, you can get an insight into culture, history while learning new stuff at the same time. It mainly concentrates on how you can learn new things about another country's culture, or how you apply the newly-acquired skill into reality when you participate in a study tour. Over the past few years, it has become a popular form of tourism activity for people who want to learn languages when they go traveling. In fact, this new sector is developing at a fast rate because of the higher demand for teaching and learning new lingua franca. Therefore, educational tourism is poised to usurp the traditional tourism's throne in the near future.
The development of tourism has resulted in the advent of this new sector in the tourism industry. Educational tourism can take various forms from one group to the others or their interests. There has been a steady growth in the number of students who want to study overseas during the past 30 years. The top three countries that have the highest oversea students are China, India, and the Republic of Korea, and the most favorable study abroad destinations are the United States, United Kingdom, Germany, France, Australia, and Japan. These countries take up almost a half of the world's total international student numbers.
Recently, the development of society level in education has had a significant impact on the tourism market. Educational tourism can come in different forms that satisfy a wide variety of each individual's interest, for example: satisfying their social and cultural curiosity; promoting their interest in art, music, architecture or fables; motivating them to raise awareness about natural habitats, landscapes, plant and animal specifies; or, developing their fascinations on heritage assets and historic areas. Surprisingly, tourism combined with educational purposes reach out of our imagination, interest or concerns for a specific area but still offers us a systematic learning method.
About Educational tourism
Educational tourism has originated from the ancient world. However, what shapes educational tourism was socioeconomic, political, cultural and historical events and at each different period it may vary accordingly alongside the history.
In reality, educational tourism came into being a long time ago, beginning in the 17th century. Initially, at the beginning, educational tourism is undertaken by a large number of youngsters who want to widen their horizons with European countries as their key destinations.
What is included in an educational tour?
Educational tours are considered to be a part of every university's academic integration. These tours can benefit students by offering handy knowledge of a variety of topics. To illustrate, taking a field trip to the zoos helps students get an insight into the natural habitats of flora and fauna. This creates a real interaction between students and the wild, which generates the fascination that no knowledge in the book can.
Likewise, a trip to a planetarium is absolutely interesting and fascinating. Students can learn about important historic prominence or have a closer look at old-time iconic antiques. On top of that, a visit to ancient mansions, palaces or the ruins of any that alike can definitely enable students to memorize the facts longer and more vividly.
Tourism vs Education: two fundamentals of future prospects
Both tourism and travel expand the knowledge of students because they have a chance to get to know other people, language, lifestyles, customary and traditional celebrations as well as various aspects of cultures. They help us know about the places. Hence, it plays an extremely essential part in our educational functions and system. Without traveling, education is not as completely sufficient as a whole.
Looking back on the past, traveling far away was not that easy because of the lack of transportation and advanced scientific developments. That problem is nowadays solved with the presence of modern transport systems such as ships, railways, airplanes. All of them can be either fast, convenient and comfortable, plus they are quite easy to access and cheap to travel for a long distance. These all contribute to the fact that traveling will finally become a vital part in the development of education and be in aid of the learning process, making it more pleasantly enjoyable and interesting. In addition, it not only helps generate people's interest in studying but also improves or provokes creative thought ideas. Compared to reading books, traveling provides learners with lively knowledge and facilitates the memorizing process while maintaining their motivation at the longest.
How many kinds of educational tourism are there?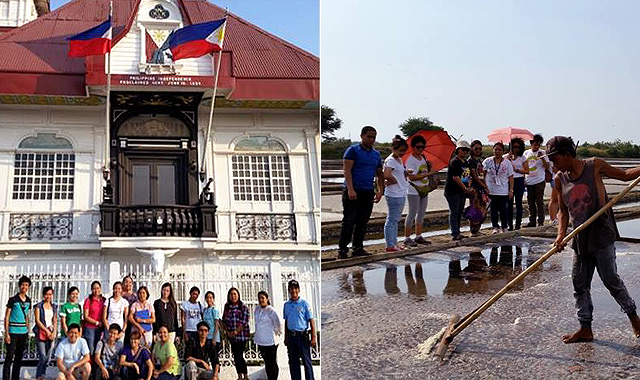 Although it is very difficult to classify educational tourism, we can base on several large key factors as follow:
1.Travelling for youngsters: this consists of school field trips, exchange programs, trips to museums, botanical gardens, historic sites, multi-country locations programs and summer camps. The aim of these programs is to enhance the exposure of the students to the real environment, and increase their real time experience as much as possible.
2.High education – Tourism education included: consists of a full-time or international exchange program.
3. Research program: students get to choose their university in various places.
4. Exchange program: European Credit Transfer System (ECTS) is one of the prominent forms of educational innovation where students can be interchangeable between many different universities while their grades are valid and valued in any schools under this program. The programs are for students in terms of internships, sport competitions, and summer school.
5.Workshops: this kind of travel often includes conferences, workshops and presentations.
How beneficial is Educational Tourism?
Admittedly, it is both advantageous for the destination nations and the oversea students. There is potential for the local areas, regions and the nation in the end to develop at either small or large scale. It offers the opportunities to expose to the country and a place to discover the value of it.
In addition, educational tourism will promote the development of:
Facilities and infrastructure expansion
Development of educational courses
Providing more job opportunities
Enhancing the quality of workforce
Potential opportunities for companies and start-ups
Fully exploration of far-forgotten places
Upgradation of social welfare
Exchange cultural understanding
Improving country image
Reorganization of peculiar culture and identity.