I've been thinking a lot about games lately. Well… if "thinking" is the right word for this.
But it's not just silly cartoons. It's because my new book is all about mathematical games.
It's a friendly book. A yellow book. A tall book. In short: a Big Bird kind of book. It arrives on April 5th, and it is now yours to preorder:
I devoted two back-breaking years to researching this thing. At times, I feared I would not make it. How could I withstand so many pleasant diversions? So many hidden gems, each taking a minute to learn and a lifetime to master? Such endless hours of thought-provoking fun, requiring only materials you already have at home? It was week after week after week of relentless, agonizing enjoyment. The soul is only so strong.
But I persevered. From over a thousand candidates, I emerged with several dozen of the finest mathematical games that humans have yet devised.
They come from Japanese schoolyards, Parisian universities, and Argentine puzzle magazines.
They come from devoted educators, shameless self-promoters, and humble hobbyists.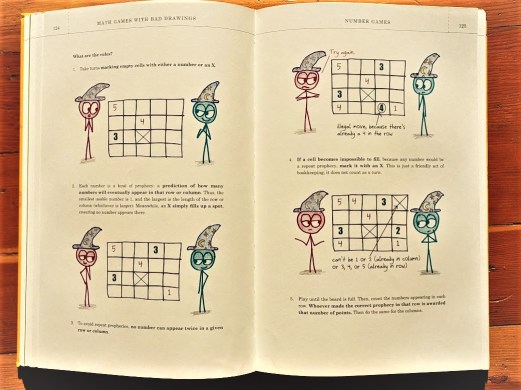 They come from yours truly and trues yoursly.
Best of all, each game doubles as a fresh lesson in how play brings out the best in human thought.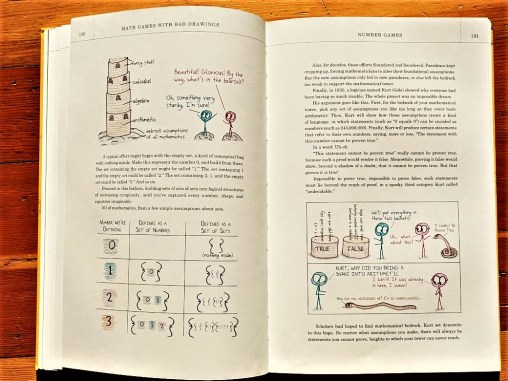 The early reviews are already making me blush:
Hyperbole and a Half's Allie Brosh said "I'm loving this" and fondly compared it to "a pill pocket for math."
Mindscape's Sean Carroll said it "reveals where the fun [of math] has been lurking all along."
Stanford's Jo Boaler called it "a wonderful mix of informed, funny, and creative" and said "I will carry this with me everywhere, and my mathematical thinking will be better because of it."
My two-year-old Casey, upon first seeing it, dubbed it "my book." She added: "I wrote this book," and then, pointing to the cover: "I draw this."
High praise indeed. This is my third book (Casey's first), and I know I always say this, but I really think it's my best one yet.
You can preorder in all the usual places, but I'm especially excited about the deluxe package on Kickstarter: your preordered copy will come signed (by me; alas, Ernő Rubik was unavailable), along with a plethora of bonus cards, and the chance to win a new game designed in your honor.
(The Kickstarter is U.S.-only, by the way; my apologies to folks elsewhere.)
I could give you the usual spiel here: how preorders count toward first-week sales, which are a book's lifeblood, which makes them an author's lifeblood, which is almost enough to attenuate the creepiness of the word "lifeblood." But I'll spare you that. Yes, my career (and Casey's pineapple budget) require me to sell books. But don't buy this one for me. (I already have a copy.) Buy it for yourself. Buy it for a friend, a game-playing partner, a student, a teacher. Buy it for someone who loves math, someone who loves games, someone who loves Big Bird. Heck, buy a copy for Big Bird himself.

Anyway, thanks for checking it out. I'll be back to actual blog posts soon, I promise. And one last time, here's the Kickstarter!